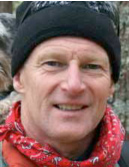 Freeman Churchill -- Certified Pedorthist (Canada)
Freeman is the founder and President of Orthotics East Ltd. After growing up in Yarmouth, he studied and graduated from Acadia University (1975) in Recreation, and then Dalhousie (1981) in Physical Education.
Freeman began his pedorthic work history in 1980. As an athlete, he ran and coached distance running at a national level, and has completed 10 marathons. It was while training for the 1981 Boston Marathon he realized his own biomechanical needs for orthotics and how it would be helpful to others with similar needs. In 1983 he began working with the Nova Scotia Sport Medicine Clinic with a variety of Sport Medicine Physicians, helping in orthotic fitting and fabrication, and designing fitness and training programs. He was the first private Certified Pedorthist (C) in Nova Scotia and has been teaching and training in pedorthics since 1985.
Freeman has served as a director and president for the Pedorthic Association of Canada . He serves on the examination body for the College of Pedorthics of Canada , and is a board member of the Prescription Foot Orthotics Laboratory Association (PFOLA) . Freeman is a master swimmer, and also enjoys archery, photography, camping and other outdoor activities. Freeman greatly enjoys the relationship with staff, patients, and the therapeutic communities that have developed over the past 30 years.